Patterns of Police Brutality/Violence 1971-73
General incidents and examples
note that there is less metadata because DPD quit sharing with DCCR and continued to stonewall MCRC
DCCR Stonewalling from 1973
This showcase is MCRC and DCCR charges of non-cooperation
Incidents case studies
Home invasions and sexual assaults
Many in Chronicle as people won't file complaints see no point, fear retaliation
Muriel Roberson here instead?
woman alleges assault 1972
see Austyn metadata notes on Fifth Estate incident in 1971
David Tate case study
Add the homicides including from DCCR folder 2, and use of force policy here also--separate page
Edward Ritz fatality 9-26-71, protests and claims police lied, see the folder in all homicides
Dewey Foshee, "everyone is concerned about the policemen that got killed, but no one is saying anything about the way they killed my brother Durwood. He was murdered--by policemen!" (Chronicle 3-3-73)
Chronicle 3-10-73 includes two unnamed police shootings, one of a 16 year old girl threatening mother with knife shot in front of mother, another of a man with a gun where officers fired and killed the man with a gun and an officer--this is from the Police and the Black Community series part 3
Add notes in folder from: Catherine H. Milton, et. al, Police Use of Deadly Force(Police Foundation, 1977), National Criminal Justice Reference Service, https://www.ncjrs.gov/pdffiles1/41735.pdf.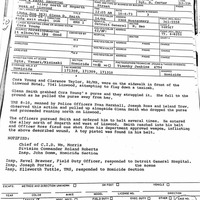 Add video if move this from subsection 3
"The Blue Curtain"
Isaiah (Ike) McKinnon, an African American officer who joined the DPD in 1965, ran up against the so-called "Blue Curtain" of police silence and cover-ups of brutality by fellow officers many times during his career. In 1972, McKinnon was a sergeant in the 10th precinct when he intervened to stop fellow police officers from beating and kicking three African American teenagers after a chase. After he stopped the white officers, he went back to the station house and had the following exchange with the lieutenant on duty:
McKinnon: "A number of officers were savagely beating three young men on the street and I stopped it."
Lieutenant: "What are you going to put in your report?"
McKinnon: "Exactly what I saw."
Lieutenant: "Ike, if you do that you're going to cause these guys to lose their jobs."
In the video excerpt below, Ike McKinnon describes this incident and the repeated efforts by the DPD hierarchy to convince him to drop the matter, revealing the "Blue Curtain." He also recites the law enforcement code of ethics that police officers are supposed to "respect the constitutional rights of all," which he believed and tried to follow, while many in the DPD did not.
"What happens is that officers become a part of this system and they see something and they don't stop it . . . and that is one of the most unfortunate things that officers do or don't do—you're there to serve and protect"-Ike McKinnon, 2019
Sources
"Police and the Black Community" 4-part series, Michigan Chronicle, Feb.-March 1973
see the ArcGIS map also on all police incidents 1971-1973