Remembering STRESS Victims
Detroit police officers in the STRESS unit killed at least 22 people during its three years in operation and shot and wounded dozens more. Almost all of the civilians casualities were African American males killed under suspicious conditions. One of the deceased was a law enforcement officer shot by a plainclothes STRESS unit. Three STRESS officers also died of gunfire while on active duty, at least two in suspicious or avoidable circumstances.
The controversial decoy tactic accounted for a majority of STRESS homicides, including nine of the first ten during the most deadly period, the spring and summer of 1971. The death toll diminished after the protests and civil rights investigations that followed the killings of teenagers Ricardo Buck and Craig Mitchell that September. But the Detroit Police Department resisted demands for reform and did not modify the STRESS decoy operations until the massive backlash that accompanied the Rochester Street Massacre of March 1972 (covered in the next section), when STRESS officers killed a Washtenaw County sheriff's deputy in a murky incident that brought allegations of narcotics corruption in the DPD.
STRESS Shootings: A Suspicious Pattern of Excessive Force and Framing of Victims
"STRESS officers claim to be attacked with knives, but never receive knife wounds"--Labor Defense Coalition, April 1972
The homicides by STRESS units followed a suspicious pattern of police criminality, as the Labor Defense Coalition documented in its 1972 lawsuit seeking the unit's abolition and as the affiliated activists in From the Ground Up emphasized in its 1973 expose "Detroit Under STRESS" ( excerpt at right).
First, undercover STRESS officers generally instigated and escalated the encounters that they then blamed on attacks by "muggers" and "street criminals," usually causing the targets to flee from armed men they did not necessarily realize were law enforcement. Many incidents happened late at night, targeted African American panhandlers or inebriated males leaving bars, and appeared driven by the collective white law enforcement sentiment that all Black males out on the inner-city streets after dark were presumptively criminals.
Second, the STRESS units began firing their weapons as a first rather than a last resort, often shooting fleeing suspects in the back, and in several cases shooting them in the front from close range, based on the "proactive policing" philosophy of controlling the streets through preemptive violence.
Third, the STRESS unit would 'discover' an allegedly deadly weapon on the deceased civilian, usually a knife, which the Homicide Bureau and Wayne County Prosecutor then cited to justify the shooting. There is no recorded case of a police officer injured by a knife wielded by someone subsequently killed, a pattern that defies logic, as the Labor Defense Coalition pointed out in its 1972 lawsuit. Anti-STRESS activists accused police officers of planting such "drop" weapons on civilians after a shooting in order to clean up the scene and cover up the investigation, and incontrovertible evidence emerged in 1973 that Patrolman Raymond Peterson, the deadliest STRESS officer, did so. (Jeffrey Patzer, a DPD officer who resigned in 1973 after reporting a police brutality incident, told a journalist that police academy instructors advised him to carry a knife while on duty in case he shot an unarmed civilian. In an interview with our project, a former Detroit crime reporter confirmed the common knowledge that some officers habitually carried "dropsy" knives or guns in order to frame suspects and exonerate themselves in cases of a questionable or 'bad' shooting).
Fourth, STRESS units often intimidated witnesses to questionable shootings, and the DPD and county prosecutor frequently brought false charges against the victims, in order to cover up what really happened. In one case, STRESS officers even allegedly murdered the witness to a previous homicide.
Despite these suspicious patterns, the Wayne County Prosecutor found all but one STRESS homicide to be justified: the eighth fatal shooting involving Patrolman Raymond Peterson, after forensic evidence proved that he had planted a knife to frame the victim. The Labor Defense Coalition, in its lawsuit seeking the abolition of STRESS, named Prosecutor William Cahalan as a defendant and accused him of orchestrating a "systematic and intentional scheme to rubber-stamp fradulent police complaints against innocent civilians and to avoid, whenever possible, prosecuting police officers whom he knows and has reason to know are guilty of vicious criminality."
This map provides a visual representation of all 22 [*******] acknowledged STRESS fatalities between 1971 and 1973. Hover over the dots for brief descriptions of each incident, and continue below for more substantive accounts and supporting documents. Zoom to view the clusters of fatalities near the downtown and midtown business corridors, which activists charged was a strategy to protect white property investments rather than Black crime victims.
Map of STRESS Fatalities, 1971-1973, in Detroit's Racial Geography (1970 Census)
ADD MAP
1971: Thirteen Civilian Fatalities
The Wayne County Prosecutor exonerated all of the white STRESS officers who participated in the killings of thirteen civilians, all but one African American males, during 1971. The city of Detroit later settled wrongful death lawsuits in a majority of these undercover decoy cases. The combination of the evidence presented in civil litigation, and the consistently scripted nature of the official police accounts, strongly indicate that most were murders involving excessive and unjustifed force followed by DPD coverups.
Herbert Childress (May 11, 1971). Childress, a 35-year-old African American male, was shot and killed by Patrolman Raymond Peterson inside a private apartment. The incident began around 1:00 a.m. when, according to Peterson, he was acting as an undercover decoy in a known vice district near downtown and was propositioned by a "homosexual" prostitute--"a man attired as a woman." Peterson accompanied the transgender prostitute, whose name was James Henderson, into an apartment and said that he found two other men there in bed together. Peterson claimed that he rejected their sexual advances and tried to leave, and so the three men attacked him. He then fired twice and killed the purported ringleader, Herbert Childress, who allegedly had a knife. The other two escaped, but a few months later Peterson killed Henderson in a very suspicious incident (see below).
Clarence Manning, Jr. (May 29, 1971). Manning, a 25-year-old African American male, was shot and killed by Patrolman Raymond Peterson acting alongside other white STRESS officers. According to the DPD, Manning and another man, Nathaniel Johnson, tried to rob undercover STRESS officer Michael Worley at gunpoint in the early morning hours. They allegedly kept attacking Patrolman Worley after he identified himself as an officer, and then sought to flee in their car. Worley claimed that he feared for his life and that Manning had attacked him with a bottle while Johnson pointed a gun at him from the car window. Worley and his backup team, including Patrolmen Peterson, Richard Worobec, and Marvin Johnson, fired 18 shots at the fleeing suspects, killing Manning. According to a civil lawsuit filed by Manning's family, Patrolman Worley accosted the deceased man in disguise as a bearded hippie, verbally abused and provoked him, and then shot Manning as he approached. The STRESS backup team immediately opened fire on the unarmed man, striking Manning seven times. Forensic evidence confirmed that the fatal wound came from Raymond Peterson's gun from a distance of less than five inches, contrary to his official report, indicating an execution rather than shots fired at a fleeing suspect. Nathaniel Johnson, who remained in the car throughout this encounter, drove away in a panic, not even knowing the assailants were police officers. Johnson was arrested almost immediately and charged with felonious assault but acquitted by an all-Black jury. (A reverend on the jury said he received anonymous phone threats that in the event of a not guilty verdict, "they would burn my church.") In 1975, the city of Detroit paid $180,000 to Clarence Manning's family to settle a wrongful death lawsuit, in acknowledgment that a jury would likely agree that the STRESS officers had used excessive force and lied about the encounter. For additional information, visit the STRESS Trial page.
Horace Fennicks and Howard Moore (July 5, 1971). Fennicks, a 28-year-old African American male, and Moore, a 32-year-old African American male, were shot and killed by an all-white STRESS team a little after midnight after they asked undercover decoy officer Michael Ziolkowski for a quarter. Patrolman Ziolkowski claimed that the two men and a third companion, Ken Hicks, then tried to mug him with a knife. He claimed to have identified himself as a police officer and ordered them to halt, but instead they fled. Patrolmen Raymond Peterson and Phillip Kocinski of the STRESS backup team shot and killed Fennicks and Moore, allegedly as they fled while still armed, and claimed to find a knife on Fennicks's body. The autopsy report showed that Fennicks was extremely intoxicated, raising questions about why the STRESS unit did not just apprehend him. Patrolman Ziolowski shot and wounded Hicks, allegedly as he fled, but his stomach wound instead indicated a close-range shooting. The DPD charged Hicks with felonious assault, but a judge dismissed the case for lack of evidence. According to Hicks's testimony in a civil lawsuit against STRESS, when the threesome asked Ziolkowski for a quarter to buy a drink (not knowing the white man was an officer), "he said he didn't have nothing for no n------." Then, when they asked him a second time, Patrolman Zilkowski without provocation "stepped back, pulled a gun, and started shooting." Fennicks and Moore fled down an alley and died of gunshot wounds in the head and back, fired by the white backup officers. The city of Detroit later paid a $75,000 settlement to the family of Horace Fennicks to settle a wrongful death lawsuit, and the family of Ken Hicks, who had by then died in an unrelated incident, received a $140,000 settlement. For more details, see the STRESS Trial page.
Harry Taylor (July 6, 1971). Taylor, a 20-year-old African American male, was shot by two white STRESS officers, Patrolmen Donald Lewis and James Bardel, and died eighteen months later from complications due to these injuries. According to the police officers, Taylor and Guilford Pender, also a 20-year-old African American male, attempted to mug Patrolman Lewis, the undercover decoy, with a "sharp object" and then began kicking and beating him after he gave them $5. Lewis then fired his gun, as did backup Patrolman Bardel, sending both of the alleged assailants to the hospital with serious injuries. The officers claimed to find a knife that one of the suspects dropped at the scene. The DPD charged Taylor with armed robbery, but a jury acquitted him. Before he died, in testimony in a civil lawsuit, Harry Taylor said that he and Pender had left a bar around 2:00 a.m. and stepped into an alley to urinate. They were then attacked for no reason by a white man (Patrolman Lewis) who "shot me in the stomach. The bullet spun me around. Then he shot me again." Then the other officer, Patrolman Bardel, began kicking him, called him a "Black n-----," and threatened to kill him. In 1976, the family of Harry Taylor received a $100,000 wrongful death settlement from the city of Detroit, and Guilford Pender, who survived, received $150,000.
James Smith (July 14, 1971). Smith, a 32-year-old African American male, was shot and killed by a STRESS team that included Patrolmen Paul Van Wie, Raymond Peterson, Michael Ziolkowski, and Anthony Golicz. In the DPD version, Smith and two other African American males accosted Patrolman Van Wie, the undercover decoy, in a narcotics vice district around 2:45 a.m. and invited him to visit an illegal after-hours bar. When Van Wie declined, they allegedly attacked and tried to mug him, with one wielding a knife. Van Wie claimed to have identified himself as a police officer before shooting James Smith as he fled. The STRESS team shot and wounded another suspect, Robert Pearson, and charged him and the third alleged accomplice, Robert Roberts, with armed robbery. According to testimony by the two survivors, Pearson and Roberts, the police account was a complete fabrication. They stated that Patrolman Van Wie precipitated the encounter while pretending to be drunk, and James Smith was not even initially on the scene. Instead, Smith emerged from a nearby hotel and told the group to stop loitering. The STRESS team then began firing, killing James Smith, who in no way had threatened any of them and did not know his alleged accomplices. Smith died of three gunshot wounds one week later.
Louis Ellios, Jr. (September 3, 1971). Ellios, a 38-year-old white male, was shot and killed by STRESS officer Robert Miller around 9:00 p.m. in his own home. The STRESS team responded to a report that an inebriated Ellios was sitting on his porch waving a loaded shotgun. Ellios had gone upstairs when the plainclothes officers arrived, and as he walked back downstairs still holding the gun, Patrolman Miller blew a hole through his stomach from close range with a shotgun. The officer claimed that Ellios had pointed the shotgun at him. The Labor Defense Fund included Ellios in its civil lawsuit against STRESS and argued that the DPD officers easily could have disarmed the drunk and diminutive (125 pound) man without killing him.
"James Henderson, the witness to a prior STRESS slaying, was murdered by STRESS officers"--Labor Defense Coalition
civil litigation
, April 1972
James Henderson (September 9, 1971). Henderson, a 24-year-old African American male, was shot and killed by white STRESS officers Raymond Peterson and James Brown around 2:00 a.m. inside the Neal Hotel. The anti-STRESS movement, led by the Labor Defense Coalition, charged that the two officers murdered Henderson to silence him as an eyewitness to Patrolman Peterson's suspicious killing of Herbert Childress the previous May, when Henderson allegedly had lured the undercover decoy into an apartment for a homosexual liaison (see above). In the September incident, Patrolman Brown claimed that, while acting as a decoy, two men asked if he wanted "a girl" (allegedly soliciting him for prostitution) and then jumped him with a knife and tried to rob him. Patrolman Peterson, the backup, claimed that as he responded to the situation of Henderson holding a knife to Brown's throat, someone inside the hotel yelled 'Police!" Henderson and the other man began to flee, and the STRESS officers cornered them in a room. In Peterson's story, Henderson then threatened the officers by claiming to have a shotgun (none was found, and threatening an armed officer with a nonexistent gun defies logic). Peterson said he then shot the cornered Henderson through a closed door (although the bullet wound was in the back). The other man was Raleigh McDuffie, the hotel night clerk, whom the STRESS unit arrested as an accomplice to armed robbery, presumably to intimidate him against reporting what he actually saw. After a judge dismissed this charge as completely unjustified, the prosecutor offered McDuffie a plea deal for disorderly conduct.
In the anti-STRESS lawsuit, the Labor Defense Coalition contended that Patrolmen Peterson and Brown shot James Henderson in the back in a deliberately planned execution. The LDC compiled firsthand evidence that a few weeks before the fatal shooting, a DPD car drove by Henderson's residence and an officer called out, "Bitch, we're going to get you next." A few days before Henderson died, another unidentified STRESS officer informed him that the unit would "get" him soon. The night clerk, Raleigh McDuffie, testified that he witnessed two white men (Patrolmen Peterson and Brown) enter the hotel and begin beating James Henderson. When McDuffie tried to intervene, the plainclothes officers beat and threatened him as well. The officers then dragged Henderson into a room, and McDuffie heard one of them yell, "Run, n-----," followed by five or six gunshots. The two officers then returned to beat McDuffie until he was unconscious. McDuffie woke up in the hospital, under arrest as an accomplice, and later courageously testified that he had witnessed a premeditated murder by STRESS officers.
Ricardo Buck and Craig Mitchell (September 17, 1971). Ricardo Buck, a 15-year-old African American male, and Craig Mitchell, a 16-year-old African American male, were shot and killed by Patrolman Richard Worobec, and possibly other members of his all-white STRESS team, as they fled the scene of a murky encounter. The STRESS unit claimed that Buck and Mitchell had assaulted Patrolman Worobec, the undercover decoy, with a steel rod and stolen his watch before fleeing when he yelled "Halt Police!" Worobec claimed that he then shot both teenagers in the back as they fled in different directions and recovered his watch under Ricardo Buck's body. Multiple teenage eyewitnesses contradicted the police version and insisted that Worobec had instigated the encounter, fired unprovoked at the unarmed youth, planted the watch on Buck's body, and that other STRESS officers fired on Buck as well. There are many inconsistencies in the STRESS unit's account and an almost certain DPD coverup of what really happened, as documented in detail on this section's previous Ricardo Buck and Craig Mitchell page. The STRESS killings of two unarmed and fleeing teenagers led to a mass protest movement and two civil rights investigations calling for major reforms, which the DPD rejected. The city of Detroit paid $270,000 to settle a wrongful death lawsuit brought by the families of the two boys.
Donald Saunders (September 21, 1971). Saunders, a 39-year-old African American male, was shot and killed by Patrolman Robert Miller, acting as undercover decoy, and possibly another member of his all-white STRESS team. Miller alleged that around 1:45 a.m., Saunders asked him for 20 cents for bus fare and then, when the plainclothes officer said he had no change, pulled a knife to his throat and stole his wallet, then knocked him down and began to run away. Patrolman Miller then claimed that he identified himself as a police officer, ordered Saunders to halt, and then fired several shots when the suspect kept fleeing. Patrolman David Siebert, part of the backup team, also fired shots at Saunders. The forensic evidence contradicted this account and revealed that Saunders had been shot from the front, in the chest from close range, as well as in the hip. The anti-STRESS lawsuit labeled the Saunders homicide a collective STRESS "murder" because of the location of the chest wound and also asked how a very inebriated, very small (122 pound) man could have roughed up Patrolman Miller as alleged.
Silas Hudgins (November 12, 1971). Hudgins, a 50-year-old African American male, was shot and killed by STRESS officers Virgil Starkey and James Harris, along with Patrolman Milan Karadandza of the 10th Precinct, when two different units responded to reports of a man wielding a shotgun at 2:14 a.m. at an apartment building on the East Side of Detroit. In the police account, Hudgins threatened other residents of the building and then pointed the gun at the officers, fired one shot, and refused to drop the weapon when so ordered. The three patrolmen hit Hudgins with fatal shots in the chest and abdomen. The DPD emphasized that the officers "had to fire for self-protection" and that the incident had nothing to do with the controversial STRESS decoy operation. This was true, although the tragedy raised different questions about the tendency of police to respond with gunfire to people undergoing mental health crises.
Neil Bray (November 13, 1971). Bray, a 21-year-old African American male, was shot and killed by Patrolman Paul Van Wie, the undercover decoy, and other members of his all-white STRESS unit just before midnight outside of a bar. Van Wie and his partner, Patrolman Phillip Kocinski, were disguised as hippies and pretending to be inebriated when they encountered Neil Bray, with Patrolmen Raymond Peterson and Michael Worley working backup. In the police version, Bray accosted the two decoys with a broom handle, striking Van Wie in the face, and demanded their money. Van Wie claimed that another member of the group Bray was with allegedly threatened them with a sawed-off shotgun, but the police did not recover this at the scene. Van Wie immediately opened fire, striking Bray in the chest. The other three members of the STRESS team promptly began shooting and fired around a dozen rounds all together. Patrolman Peterson claimed to have shot Bray as he fled the scene and "lunged" at him, despite the likelihood that the young man died when Van Wie shot him from point-blank range. Bray suffered six gunshot wounds and was pronounced dead on arrival at the hospital. Patrolman Van Wie sought treatment for "facial abrasions." In the civil lawsuit, the Legal Defense Coalition acknowledged that Bray struck Patrolman Van Wie with a broomstick but also asked what the undercover "hippies" might have done during the encounter to possibly provoke this escalation. The LDC contended that "for this act, he [Bray] was summarily executed. . . . At no time did the officers attempt to disarm or arrest Neil Bray."
1972: Four Civilian Casualties and One Law Enforcement Victim
The fatality rate of the STRESS unit declined significantly in 1972, especially after the Detroit Police Department implemented reforms to the deadly decoy program followed the Rochester Street Massacre in early March, when a STRESS team killed an African American county sheriff's deputy. The anti-STRESS protests by a broad civil rights coalition during spring 1972 undoubtedly saved lives, forcing the DPD to scale back the decoy operation before the warmer summer months when the bulk of police shootings traditionally occurred. The dominant pattern of STRESS decoy-instigated killings marked by excessive force and wrongful death in street patrols, so clearly evident throughout 1971, also gave way to a more diverse set of circumstances in the five homicides attributed to STRESS officers during 1972.
Everett Winfrey (February 25, 1972). Winfrey, a 26-year-old African American male, was shot in the chest by white STRESS officer James McCallum and died from his wounds several weeks later. Winfrey allegedly snatched a purse from a 50-year-old woman, who reported the incident to a team of STRESS officers. Patrolman McCallum cornered Winfrey in a parking garage and shot him several times. Winfrey was not armed, and it is not clear why the shooting of a cornered man was justified under DPD regulations that apprehension of a suspect should take place without deadly force when possible. McCallum claimed that the suspect ignored orders to halt and turned around just as he was shot, explaining the bullet wound in the chest. This incident did not generate the controversy and civil litigation of previous STRESS killings, perhaps because the purse-snatching victim was a civilian and not a decoy officer, but whether the use of force was justified is certainly debatable.
Deputy Henry Henderson (March 9, 1972). Henderson, a 33-year-old African American male and Wayne County Sheriff's Deputy, was killed during a shootout that started when a STRESS team ambushed a group of sheriff's deputies and civilians who were playing poker in an apartment building. The STRESS officers present--Patrolmen Dennis Shiemke, David Marshall, Virgil Starkey, Ronald Martin, and James Harris--fired 41 shots during the exchange, fatally wounding Henderson and seriously wounding Deputy James Jenkins. All of the law enforcement officers involved were African American except for Patrolmen Shiemke, who fired the fatal shot that killed Deputy Henderson, and Patrolman Marshall. Despite this, the Wayne County Prosecutor exonerated the two white STRESS officers while bringing charges for assault with intent to murder against the three African American STRESS officers. The ambush, dubbed the Rochester Street Incident, generated massive protests against STRESS and bitter charges of a coverup by the DPD and selective prosecution of the Black officers alone. Activists also contended that the shootout resulted from a turf war over narcotics payoffs between corrupt officers in STRESS and in the Sheriff's Department. The city of Detroit paid a combined $2.7 million to settle lawsuits by Deputy Jenkins and the family of Deputy Henderson. For the full account of this incident, visit the Rochester Street Massacre page.
Curtis McConnell (March 14, 1972). McConnell, a 15-year-old African American male, was shot and killed by Patrolman Gary Boiger, acting as undercover decoy, when he allegedly "lunged" at the officer with a knife during a robbery attempt. Boiger claimed that a group of five Black youth armed with knives surrounded him on the street at night and and stole $5. The decoy officer claimed that after he identified himself as an officer and ordered them to halt, Boiger attacked him. Patrolman Boiger and two backup members of his all-white team, Patrolmen David Siebert and Pat Devine, shot and wounded two other youth and arrested the surviving four on charges of armed robbery. The Detroit Police Department gave Patrolman Boiger its Distinguished Medal of Valor for his bravery as an undercover decoy, while the Labor Defense Coalition named him as a defendant in its anti-STRESS lawsuit filed one month after the officer killed Curtis McConnell. The NAACP responded to the fatal shooting of another African American teenager by sending a telegram to Mayor Gribbs and DPD Commissioner Nichols demanding the abolition of STRESS and charging that "the wanton police of this operation, 'Shoot first and ask questions later,' is the brutal attitude of most if not all of its officers." Five years later, McConnell's family published this memorial tribute:
"In Memoriam: Curtis McConnell. No pen can write, no tongue can tell, our sad bitter loss. But God, alone, has helped so much to bear this heavy cross. Sadly missed by his Mother-Dad-Brothers-Sisters"--Detroit Free Press, May 29, 1977
Anthony Oden (November 5, 1972). Oden, an African American man (age unknown), was shot by Patrolman Charles Eggers outside a bar on Woodward Avenue around 11:30 p.m. Eggers alleged that Oden was a so-called "Murphy man" (a fradulent pimp) who asked if the undercover decoy "wanted a girl." When Eggers said yes, Oden allegedly led him a few blocks away and pulled out a revolver, but the gun misfired. Eggers then shot Oden four times. Two weeks after the incident, the Detroit Free Press reported that Oden's wounds were non-fatal, but in a 1974 survey of all STRESS fatalities the newspaper included Oden in the list. However, this list had several errors and omissions. Our project has not located any other evidence about Oden in the archives and newspaper databases, and it is not completely clear if his was a fatal or non-fatal shooting. The minimal coverage available (right) mainly highlighted that the DPD had relaunched the STRESS decoy operation with more adequate safeguards, including psychological screening and supervisor approval of target locations, in response to the mass protests that followed the Rochester Street Massacre and fatal shootinng of teenager Curtis McConnell.
Durwood Foshee (December 8, 1972). Foshee, a 60-year-old African American man, was shot and killed in a hail of bullets inside his own home when nine plainclothes STRESS officers invaded on a false tip. While Patrolmen James Bennett and Peter Bullach allegedly fired the fatal shots, there were at least 28 police officers from STRESS and non-STRESS units from both the DPD and the city of Highland Park inside or surrounding Foshee's house that night.The incident took place during a massive DPD manhunt for three Black community activists who had wounded several members of a STRESS team in a murky shootout (see this page for a detailed account). DPD officers terrorized and brutalized many innocent African American citizens during the month-long manhunt and burst into many private homes without warrants. At 2:10 a.m. on December 8, Durwood Foshee awoke to find a large group of armed men without uniforms inside his house. The STRESS team, which did not have a warrant, claimed that they were on the front porch and had knocked and identified themselves as police officers before Foshee fired a single shotgun blast out of a window. Then, according to the officers present, they kicked in the door, told Foshee to drop the weapon, and opened fire only after he refused.
"I think my brother was shot while he was in or getting out of bed. And even if he did shoot at the men on the porch--what else could be expected? Does that justify all the shooting the police did? Does that mean my brother could be shot and killed, and nothing is going to be done about it? . . . I don't believe he shot at the police. There's no evidence, except for the bullets fired by the police"--Dewey Foshee in Michigan Chronicle, Jan. 13 and 20, 1973
The police account of Durwood Foshee's death is almost certainly fabricated, not least because the victim was in his own bedroom, having just grabbed his shotgun, when the invading police officers fired ninety shots and killed him instantly. The DPD Homicide Bureau never ran a ballistics test on Foshee's shotgun to see if it had even been fired, and the police offered no forensic evidence that he had, only the accounts of police officers who lied about where he was when he died. The DPD admitted that the raid on Foshee's house had been a "mistake," but the Wayne County Prosecutor exonerated all of the officers involved. In 1976, a jury awarded $1.4 million to the family of Durwood Foshee and agreed with the civil litigants that the 57-year-old man had not resisted or threatened the police officers before they murdered him.
March 3, 1973: Attorney Gerald Dent
March 9, 1973: Robert Hoyt
October 2, 1973: Joan Davis (aka Jewel Gant)
April 24, 1971. Cortez Marcilis--is listed as STRESS killing in LDF files
STRESS officers killed on the job
August 26, 1971: Patrolman Frederick Hunter
December 8, 1972: Patrolman Gerald Riley--DFP 12-9-72
December 27, 1972: Patrolman Robert Bradford
get pictures from the annual reports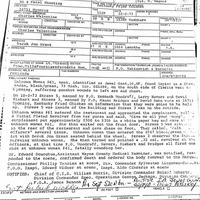 In addition to the "Detroit Under Fire" team, Zev Miklethun contributed research for this page.
Sources
From the Ground Up, "Detroit Under STRESS," 1973, Joseph A. Labadie Collection, Special Collections Library, University of Michigan
"Complaint of the Plaintiffs," April 1972, Labor Defense Coalition, et. al, v. Roman Gribbs, et. al, Box 5, Folder 26, Kenneth V. and Sheila M. Cockrel Collection, Walter P. Reuther Library, Archives of Labor and Urban Affairs, Wayne State University
Howard Kohn, "Terror In the Streets: Detroit's Super Cops," Ramparts (Dec. 1973), 38-41, 55
E. A. Batchelor and Robert M. Pavich, "The STRESS Shootings: Who and How," Detroit News, Sept. 22, 1971
Michael Graham, "STRESS Decoy Defends His Violent Role," Detroit Free Press, Dec. 19, 1971
Mark Binelli, "The Fire Last Time," The New Republic (April 6, 2017)
Detroit Free Press, Feb. 18, 1974 (list of STRESS fatalities, omitting at least two otherwise identified)
Interview with Joe Swickard, November 17, 2019, Ann Arbor MI, https://lsa-dss.mivideo.it.umich.edu/media/t/1_cfhfc0bk/145739741
Additional sources for individual incidents
Manning and Johnson: Detroit Free Press, Dec. 9, Dec. 18, 1971
Fennicks and Moore: Detroit Free Press, July 7, 1971, May 13, 1972, Detroit News, March 25, 1976
Taylor: Detroit Free Press, July 7, 1971, Michigan Chronicle, May 13, 1972, Detroit News, March 25, 1976
Henderson: Michigan Chronicle, May 6, 1972
Hudgins: Detroit News, Nov. 12, 1971
Bray: Detroit Free Press, Nov. 15, 1971
Winfrey: Detroit Free Press, Feb. 26, 1972, Detroit News, Feb. 26, March 15, 1972
McConnell: Detroit Free Press, March 15-16, 1972, July 15, 1973, May 29, 1977
Oden: Detroit Free Press, Nov. 19, 1972
Foshee: Michigan Chronicle, Jan. 13, 20, 1973, Detroit Free Press, Dec. 9, 1972, Dec. 10, 1976